Motivational Speaker
Dallas has a passion for helping young people to see the potential that their lives hold, and in working to help inspire them as he was once inspired. The current expression for this is 'playing it forward'.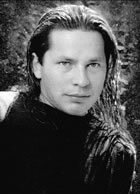 When Dallas was a teenager he was in and out of trouble, entrenched in all the typical situations that so many native kids end up struggling with. He was idle, angry, frustrated; he had no clear idea of the direction his life needed to take and he was spiraling out of control.
He found himself in a juvenile detention centre at the age of 14. By 19 he was dancing in a Universal Studios Mediterranean show that was part of a theme park in Torrano, Spain. By 20 he was in college, being trained in speech, language arts, psychology, theatre arts and Aboriginal history.
Dallas facilitates workshops for Aboriginal people of all ages on these topics:
Education
Culture
Self-awareness
Hoop Dancing
Break Dancing
Drug and Alcohol Abuse
Young Parenting
In the workshops Dallas emphasizes cooperative learning, wellness and enjoyment.
One of Dallas' favourite activities is composing music. He has been doing this for more than six years. Dallas has been developing his own unique new hip-hop style, and he uses this method of communication to speak to young people in a way they can easily relate to. Through his inspirational songs he teaches them to recognize and deal with issues that they face in today's society and how to overcome negative situations.