Flute Artist
Dallas' love of music expresses itself in many ways. He has a particular fondness for the haunting sound of the native flute, and has become a talented player, evidenced in his recently released CD: "Sacred Sweetgrass". This follows his2007 release of "Picking Sweetgrass". READ MORE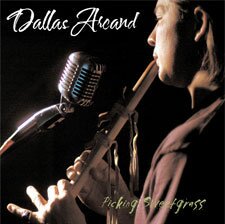 "I named this collection based on the image of picking sweetgrass. Sometimes thoughtful and reflective, sometimes anticipating something special. When I was a child I used to pick sweetgrass near my reservation (Kipohtakaw). See if you can hear that in the emotion of this music."
– Dallas
Dallas plays a traditional cedar flute. His use of this instrument ranges from original compositions in the traditional style to playing hip-hop licks.
Dallas has been engaged as an entertainer to play flute for conferences and exhibition events, including:
Empowering Indigenous People in Economic Development and Capacity Building Conference
Calgary Exhibition & Stampede Grandstand Show
Aboriginal People's Choice Awards Pre-show Gala
He also includes flute in dance performances or speaking engagements where appropriate.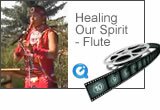 From the inside cover of "Picking Sweetgrass":
"Juniper, redwood and cedar are popular woods for making flutes, and river cane was often used because it was easy to work with. Softwoods are most often used because they produce softer tones, which suits the style of indigenous music. It was also easier to carve. My own flute is a cedar one, with 7 holes. I played 3 other flutes on this CD as well because I wanted different tones. Each flute I use is in a different key; for example, the key of A, the key of B, the key of F#, and in the key of E. Each of these keys gives a different variety of sounds and emotions therefore, it creates a different feeling to the music.
"The cedar flute has many gifted makers right across Turtle Island. My A flute, by High Spirit Flutes was my first flute I purchased at Sleeping Buffalo in Banff, AB, 2005. for $275. At the time there was this Sioux older man there, from Morley, Nakota Souix Nation, I can't remember his name, but I remember his face and his story to me. Since then, there have been many things in life and the world that have inspired me to play. Sometimes I play to my own children: Meadow and DJ (ChooCh) at night when I read them a bedtime story, or I just make them a song to dream well."
– Dallas